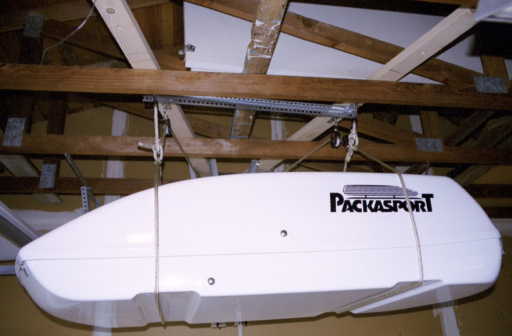 The front of the box, and the garage door, are to the left. Justine has to back her car in backwards before Bob can lower the box onto her car.
The box is held by two loops. Each loop is suspended in the middle from a beam above it. The beams are angled at a V, with the two ropes coming down together at the crook of the V. Bob thinks the bracing keeping the beams apart isn't needed, but Bill is leery of designs that aren't rigid.
The first designs we considered all had the horizontal bars parallel. That looked nice, but it made it hard for Bob to detach both rope and pull on them at the same time. Either he had to pull straight down on two ropes that were four feet apart, or he had to pull the ropes together in a vertical V. That get harder the wider the angle is. It also puts a sideways force on the horizontal beams. The current design, with the horizontal beams in a V, keeps the forces along the beams and allows Bob to pull straight down.