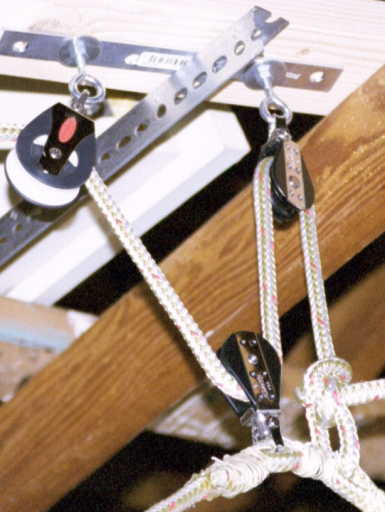 Here's the suspension. There are two of these. Each consists of a fixed loop around the box, attached at a fixed point to a pulley, and a nearby point to a rope. The rope goes up through one pulley, down through the pulley on the loop, up through a third pulley, and on to the pulley by the crook of the V.
The ends of the loop are lashed together and cemented with epoxy. How does epoxy stand up under shear forces? I don't know. Each rope is only supporting 30 pounds, so we're not demanding much from the system. I think the other rope is attached with a bowline knot. If I had constructed it, the loop and the rope would have been the same rope, tied with a bowline. Bill constructed it. Matter of taste.
The original design had one pulleys. One rope was attached to the beam, went straight down under one side of the box, straight up from the other side, and through a pulley. The rope was supposed to slide under the box as the box was lifted. Unfortunately the box didn't slide at it was lifted. It rolled instead. This design also required the horizontal bars to be parallel, making it hard to pull the ropes.
The final design had these important points. The rope around the box does not have to slide. The loop is held by a single point at the top, so the box has no motive to roll. There are three ropes going up and down at the suspension, which gives a mechanical advantage. (Bob only has to pull 1/3 the weight of the box, but three times the distance). All the attachments at the top are basically at one point. That keeps the suspension ropes about vertical even when the box is fully hoisted (important because shallow angles reduce the mechanical advantage). Having the suspension hung from one point also allows the horizontal bars to lie on a line that is not coplanar with the loop.